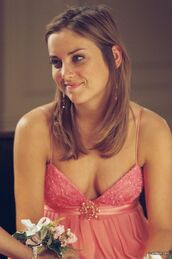 Clairissa Amy "Claire" Jones is a fictional character from the 2008 remake of Prom Night. She is played by Jessica Stroup. Claire is one of Donna's friends alongside Lisa and seems to be going through boyfriend trouble with Michael. She is the first of Donna's group to be killed by Richard Fenton and her body is later found under the hotel bed.
Prom Night
Edit
Claire is one of Donna's closest friends who seems to be going through boyfriend trouble. She first appears at the beauty salon along with Donna and Lisa while getting their hair done and talking about Michael being so cheap. She appears again while riding in the limo with Michael. Later during prom while on the dance floor she and Michael get into an argument and Claire walks by Donna, crying. Donna asks her what's wrong and Claire hints to her that she has just got her period on prom night and Michael was mad, and that she has really bad cramps. Donna assures her it is all going to be okay and tells her she has some midol in her purse up in the room.
Once she goes up the suite she accidentally startles Donna while she's in the mirror and the two talk about Claire's problems with Michael. Donna gives Claire the midol and convinces her to come back downstairs once she has fixed her makeup. Once Donna leaves, Claire is alone and hears noises: making her predict it's Michael. She suddenly sees Fenton and after recongizing him, he approaches Claire and whips out his knife. He puts his hand around her neck, choking her and steers her into the next room where he holds her down and repeatedly stabs her in the stomach, killing her. She dies and is left on the floor to her death.
After Death
Edit
Claire's body is briefily shown on the bathroom floor while Fenton is cleaning his knife, looking through some pictures on Claire's digital camera as he does so. Michael comes upstairs to look for Claire, this leads to his death when after Fenton hides Claire's body he jumps out of a closet and kills Michael.
Later Donna is attacked by Fenton and as she hides under a bed, we see Claire's dead body stuffed under the bed next to her when she sees her. Outside the hotel where its evacuated, April mentions that she heard someone say that Claire was murdered.
Jessica Stroup is real life best freinds with Brittany Snow.
Claire and Michael were a longtime couple prior to the events of the film. Three years later, they seemed to be going through relationship problems during their senior year in high school.
Claire and Michael seemed to have a rocky relationship unlike the perfect ones with Ronnie and Lisa and Donna and Bobby. Even though all six have been close friends.